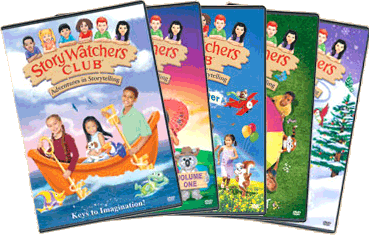 StoryWatchers Club™
Adventures in Storytelling
Series Overview
Multi-Award-Winning Children's DVD series. Enter the StoryWatchers clubhouse as a collection of the nation's top professional storytellers bring their most amazing tales to life! Special effects, animation, music, and a cast of multicultural clubhouse puppets humorously lead the way from one story to the next.
Children feel the magic and energy of each live, fun-filled, humorous performance right along with the kids in the studio audience!
Imparts to children the importance of using their imaginations, building listening and verbal skills, inspiring them to read and write, and exposing them to global cultures.
Appeals to parents who care about what their children watch – not only the entertainment value, but the educational value and wholesomeness as well.
Special Features include Sing-Along Music Video, Kids Tell Stories Too!, Meet the Storytellers, Behind-the-Scenes, and StoryWatchers Club™ Trailer. Ages 4-10, 45-50 min, $19.95 each. Five titles are available: Keys to Imagination, World Folktales, Vol. 1, Good Character, Our Planet, and Christmas.

Buy Series Now

StoryWatchers Club™
Keys to Imagination

Albert Einstein once said that imagination was more important than knowledge. With award-winning storytelling and wacky clubhouse adventures, join the StoryWatchers Club kids and discover how right Einstein was!

Buy This DVD Now

StoryWatchers Club™
World Folktales, Vol. 1


Join Cody, Kelly and the rest of the gang in the StoryWatchers Clubhouse as they explore and come to appreciate global cultures. And enjoy these phenomenal stories told by four of nation's most captivating and talented professional storytellers!

Buy This DVD Now

StoryWatchers Club™
Good Character

Have fun while understanding the importance of having good character right alongside our StoryWatchers Clubhouse gang as they learn some simple yet powerful lessons. And enjoy these stories by some of the nation's top professional storytellers!

Buy This DVD Now

StoryWatchers Club™
Our Planet

Learn to enjoy and appreciate nature with Cody, Kelly, Jordan, Juan, Tamayo, and Jada – the kids in the StoryWatchers clubhouse – as they take a fresh look at the world around them. And enjoy four enchanting storytellers as they take you on a journey around Our Planet!

Buy This DVD Now

StoryWatchers Club™
Christmas


Cody, Kelly, and the kids in the StoryWatchers clubhouse learn that Christmas is about more than receiving gifts. Their story is weaved around four amazing Christmas stories from four amazing storytellers!

Buy This DVD Now
Other Great Storytelling Resources
Book with Companion DVD for K-8 Teachers

Children Tell Stories:
Teaching and Using Storytelling in the Classroom

Aimed at teachers of grades K-8, this Anne Izard Storyteller's Choice Award-winning book by Martha Hamilton and Mitch Weiss provides clear and detailed directions for teaching storytelling. This resource offers extensive tips for integrating storytelling into the curriculum, shows how storytelling links to state standards, and provides extensive bibliographies for all aspects of storytelling. Children Tell Stories includes the multimedia DVD, Children Telling Stores: A Storytelling Unit in Action, which contains interviews of parents and teachers, demonstrations of storytelling use in classrooms, and 25 printable stories. Watch online demo video.

288 pgs. + DVD, $29.95. Order Now
DVD for Grades 6-12, ages 11 & up
The Call of Story:
An American Renaissance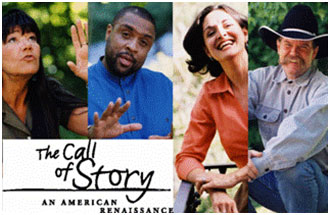 Every life is a story, and storytelling is the golden thread that binds generations into a thickly woven tapestry. This DVD is multi-culturally sewn together by six of the nation's finest storytellers sharing their stories. From an old-time cowboy poet with horse sense and humor, a Latino's life lessons riddled with comedy and conflict, sharing traditions of the Native Americans, weaving strands of African folklore, and more, your students will find this DVD entertaining, thought provoking and inspiring. Ideal for ages 11 & up, Grades 6-12, (and shhhhh! - adults will love this for their personal collections!)
50 min., $19.95. Order Now
DVD for Pre-School, ages 3-5

Fairy Tales, Fantasy,
and Storytellin' Fun

Join award-winning storyteller and early childhood educator Mary Jo Huff and her furry friends as she captures the spirit of childhood in this edutaining DVD, specifically geared for Pre-School, ages 3-5, 50 min. + special features. $19.95

Stories include... Three Billy Goats, Honey Jar, Chicken Fun, Mr. Wiggle & Mr. Waggle, Gingerbread Girl, Willie the Worm, Old Lady in the Vinegar Bottle, Little Red House, Modern Three Bears and Five Little Monkeys.