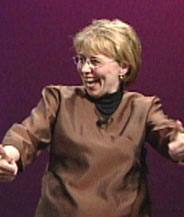 Barbara Schutzgruber
Featured on…
StoryWatchers Club™ Keys to Imagination sharing the story, The Mysterious Visitor, in which she uses a single piece of string to weave the tale and utterly captivate the viewer.
How to contact…
734-761-5118

Web Site
About Barbara…
Barbara Schutzgruber is an energetic, award-winning storyteller with the world on a string and a trickster up her sleeve. She grew up hearing stories at family gatherings and has continued the storytelling tradition as a camp counselor, teacher, parent, and freelance performer.
Enhanced by her rich voice and flawless pacing, Barbara's comfortable, lively and spontaneous style combines words, string and song to weave images for audiences of all sizes and ages.
As an award-winning recording artist, popular workshop presenter, experienced performer for schools, libraries, festivals and museums, and more, Barbara has established a national reputation for consistent, high quality work with her storytelling. Her recordings have won two Parents' Choice Awards, an ALA Notable, and two Storytelling World Award Honors.
Her thoughts on string stories: String is the original changeable toy. Cat's Cradle and other string games are found around the world. String shapes are a simple and effective way to compliment storytelling. The appeal spans generations; they mesmerize without imposing detailed images.
Her thoughts on storytelling: We all love stories. Stories catch our interest, spark our curiosity, bring us hope and challenge us. As we listen, each of us hears something slightly different because each of us brings something of ourselves into the story.