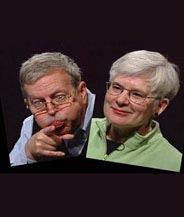 The Story Peddlers
Bob & Kathie Myers
Featured on…
StoryWatchers Club™ Keys to Imagination sharing the stories, Peanut Butter, Wide Mouth Frog, and an extremely funny version of the Aesop fable, The Frog & The Bull.
How to contact…
574-206-8661

Web Site
About The Story Peddlers…
Bob and Kathie Myers are a husband and wife team whose backgrounds are as diverse as the stories they tell. Bob was an electronic engineer and computer specialist and Kathie was a children's librarian with a master's degree in library science.
Storytelling is their first love. Bob and Kathie work as a team, improvising and weaving their tales singly, and with each other, to communicate history, heritage, values and tradition. Drawing on their own heritage and experiences from their ancestral homes, Bob and Kathie regale all kinds of audiences. Using voice characterization, participation and props, they offer true multimedia performance entertainment to any audience.
Bob and Kathie began their storytelling careers when the renaissance of this lost art was in its infancy. Their performances and presentations to storytelling festivals and their deep seated belief in their craft as a medium of unification, motivation and learning, as well as entertainment, gives them a outstanding reputation among their peers.