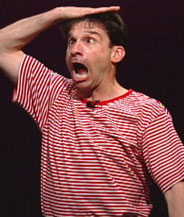 Chris Fascione
Featured on…
StoryWatchers Club™ World Folktales, Vol. 1 sharing a hysterical version of the African tale, Vingananee and The Tree Toad, and StoryWatchers Club™ Our Planet sharing the story, The Kids Who Hugged the Trees, about how a group of children by doing the right thing saved the forest.
How to contact…
708-383-8788

Bringing Literature to Life
Web Site
About Chris…
Chris Fascione's greatest passion has always been performing for children and their families. He has been presenting his one-man show, "Bringing Literature to Life," throughout the United States for over 15 years, in which he acts out stories his audience can then check out from the local library.
As a professional storyteller, Chris incorporates his acting, mime, juggling and comedic skills to both entertain and lead children into the world of books. He received his theater training from Connecticut College and the Eugene O'Neill Theater Center, and has worked with many different children's theater companies prior to developing his own show. He now sees over 50,000 smiling faces every year through his performances.
Originally from Philadelphia, Chris makes his home in the wonderful community of Oak Park, Illinois, where he lives with his wife, Diane, and their two sons, Nicholas and Andrew, a dog and two cats (the goldfish died).