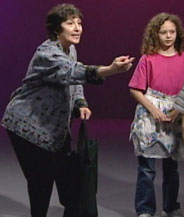 Judy Sima
Featured on…
StoryWatchers Club™ Good Character sharing the fun Russian folktale, The Great Big Enormous Turnip, which illustrates how teamwork can be more rewarding than going it alone.
How to contact…
248-644-3951
email
Web Site
About Judy…
Judy Sima is an award winning storyteller, author, andeducator. Her performances and workshops have been featured at conferences and festivals, schools and libraries across the country. As a Teacher-Librarian for over 35 years, she introduced many young people to the art of storytelling through her middle school storytelling troupe. Her book, Raising Voices: Creating Youth Storytelling Groups and Troupes, (coauthored with Kevin Cordi) has received numerous awards and accolades.
Her many articles have been featured in Storytelling Magazine, Library Talk, Book Links, Oasis Magazine, MAME Media Spectrum, Tales as Tools, Beginner's Guide to Storytelling, Telling Stories to Children and others. Judy currently serves as the North Central Regional Representative to National Storytelling Network Board of Directors.