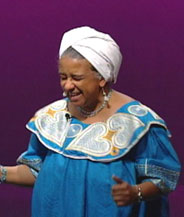 Mama Edie Armstrong
Featured on…
StoryWatchers Club™ World Folktales, Vol. 1 sharing the West African Anansi tale, How the Moon Came to Be in the Sky and StoryWatchers Club™ Our Planet with her original story, Binky, a young bird who planted seeds and found his way back home.
How to contact…
(773) 768-6773

Web Site
About Mama Edie…
Mama Edie is a professional bilingual storyteller, vocal percussionist, and speech and language pathologist. Traveling the country and the world, she blends Spanish with English, and/or Sign Language with Voice.
Mama Edie encourages listeners of all ages and cultures to journey with her through the power of the word and the expansion of their own imaginings. Performances and workshops are highly engaging and include themes such as Tropical Dreams; History, Literacy, and Culture; Finding the Light Inside (for children, adults, and those combating drug or domestic abuse); Holiday Celebrations: Habit or Hope?; Parent Power in Speech and Language Development, Healthy Communication Styles, and Dream A Little Dream with Me (especially for our elders).