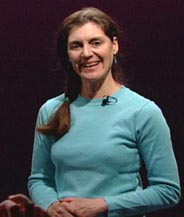 Patricia Hruby Powell
Featured on…
StoryWatchers Club™ Our Planet sharing the story, King of the Birds, a tale of how the smallest bird in the forest became the king of them all.
How to contact…
217-366-3218

Web Site
About Patricia…
Patricia Hruby Powell danced throughout Europe and the Americas speaking in her dances. Now she tells stories and conducts author visits throughout the USA accenting her world tales for all ages with dance, worldwide percussion instruments, and life-like animal sounds. She has performed as a trapeze artist, has worked as a lithographer and is a retreat leader.
Patricia has been sponsored as artist-in-residence by the Ragdale Foundation, Detroit Art Institute, Kennedy Center (Washington, DC), and the U.S. Information Agency. She has received fellowships from the National Endowment for the Arts and the Illinois Arts Council.
Her picture books are Blossom Tales: Flower Stories of Many Folk (Moon Mountain 2002) and the bilingual Navajo/English Zinnia: How the Corn Was Saved (Salina Bookshelf 2003), and Frog Brings Rain (Salina Bookshelf 2005). Her children's programs include Stories Circle the World and Love Your Mother…Earth and her adult programs include An Evening With Jane Austen, Emily Brontë & Emily Dickinson and Moving.