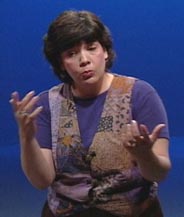 Stephanie Holman
Featured on…
StoryWatchers Club™ Good Character sharing the delightful seldom-heard classic tale, Ol' Golly Mander, which makes us realize that what goes around comes around.
How to contact…
812-829-4770

Web Site
About Stephanie…
Stephanie Holman tells stories for children every week at her library in Monroe County at the Ellettsville Branch in Ellettsville Indiana. Her love of stories goes beyond her library work and takes her across central and southern Indiana telling stories with the Bloomington Storytellers' Guild and Storytelling Arts of Indiana.
While folktales are her first choice when telling to children or adults, she has written some personal narrative stories based on her early years on an organic dairy farm in Indiana. She wrote these when she received the 2002 Frank Basile Emerging Stories Fellowship from Storytelling Arts of Indiana.
In 2004, Stephanie was commissioned to research, develop and premiere a story for the "Sharing Hoosier History through Stories" program sponsored by the Indiana Historical Society and Storytelling Arts of Indiana. The resulting piece, "The Search for a Time and a Place to Paint: Historical Women of the Brown County Artist Colony" has been told in several libraries and art museums in Indiana.
Stephanie loves listening to and telling stories, especially humorous stories and participation stories that involve the listener in the telling.